Buying a brand new house is a genius idea! You're moving into a property that nobody else has lived in before. It's got no nods to previous owners anywhere inside, the design isn't completely outdated, and there's still room to increase the property value!
Many construction companies produce new housing developments every year. As such, there's a high chance you can find a brand new property in your area.
You're interested in making a purchase, you've been searching for 'new construction near me' for days, but you're a bit worried about choosing the wrong home. This is a common fear, especially as brand new houses tend to be more expensive. From the buyer's perspective, there's slightly more risk when you spend more money!
Nevertheless, you have nothing to worry about. Below, we've listed the vital things to look for when buying a brand new house. You'll definitely make the right decision if you pay attention to all of them!
What stage is the development at?
Your first concern is with the property development itself. Construction companies aren't likely to build one brand new home and leave it by itself. Instead, they construct an entire development on a plot of land.
This is something you must think about when buying a brand new home. Why? Because you need to be sure that the property development is going ahead as planned.
Houses are built at different times, so you may find a property that's ready to be purchased. But, if the rest of the development is half-built, it could raise a few warning signs.
What if you buy the house, and the rest of the development never gets completed? This has happened before, and it leaves you with a home in a half-finished development that's impossible to sell!
Instead, only buy brand new homes when the development is in good health. Ideally, wait until everything has been finished. Realistically, it's rare that developments aren't completed, and some homes are left for sale. So, wait until a few houses have been bought before you jump in.

Who is in charge of construction?
You need to know who is constructing the brand new homes. Or, if it's already been built, who constructed it? Thankfully, this is easy to figure out as the construction company should advertise the property development all the time.
Why does this matter? It boils down to the trustworthiness of the construction company!
You see, some construction companies are better than others. This tends to be reflected in customer reviews, with some companies seeing a storm of negative reviews following a housing development project.
Your job is to identify the construction company and see what the general consensus is around them. Do they have positive reviews? Are they a BBB member? What previous developments have they worked on?
All of this helps you understand if your home was built by a trusted company or not. If everything seems okay, you can buy it with confidence. But, pay close attention to the reviews as you can spot some running themes.
You might notice that lots of homeowners are complaining about flooding in their brand new homes. They were all built by the same company, so it indicates a fault with their construction process and the home design!
In this case, does it make sense to buy a home in a different development from the same company? No, it's too much of a risk!
What's included in your home?
When you buy a regular home, you instantly know what's included in the price. Apart from the furniture and the previous owner's belongings, you keep everything. With a brand new home, things are slightly different. The quoted price will have a selection of things that are 'included', and you have the option to add extras as well.
Therefore, you have to understand what's included in your home when you buy it. This is a common mistake lots of homebuyers make when purchasing brand new properties. You see the advertised price and jump at the chance to sign on the dotted line.
Often, the advertised prices seem much cheaper than other houses, and that's because they don't come with many things included! They are stripped to the basic necessities. It's only after adding the extras that you get the true cost of the home!
What's included in a brand new home? It depends on the construction company that sells it.
Sometimes, you get a house with the absolute bare minimum inside. In essence, it's completely empty, and you have to pay extra to fit a kitchen or a bathroom.
Alternatively, it's not uncommon for a brand new house to come with all the trimmings. The kitchen and bathroom are included in the price, it has a fitted basement, and you may even have some furniture!
In fact, many construction companies sell fully-furnished homes towards the end of the development cycle. These tend to be the model homes they used for demonstration purposes, but now they can be sold.
Overall, the key factor of this point is to be aware of what the asking price means. Are you paying for a home with a kitchen, or will you need to pay extra to get all the appliances and cabinets fitted? Talk this over with the seller before you make any formal agreements as you need to know what your money will get you!
Will you have to make any home improvements?
A massive benefit of brand new homes is that you shouldn't need any home improvements. After all, it is brand new and made to modern design standards. Still, you may see homes that demand a little extra improvement to suit your needs.
Part of this relates to the inclusions and extras. However, you might not like some of the things included in the house! Maybe the bathroom doesn't meet your needs, and you feel like it would be more functional if you redesigned it? Perhaps the kitchen isn't ideal, and you want to make some improvements?
It's important to look for a brand new home that requires as few improvements as possible. Otherwise, this just adds to the price and makes the house more expensive. This is the last thing you want if the items you're paying extra for are exactly the things that you're not in love with!
When buying an older home, you expect to make some home improvements. The house is outdated, so it makes sense. If you have to make a lot of home improvements to a brand new home, what's the point in buying it?
Does the property come with a warranty/guarantee?
Old houses are sold to you as they are. If anything happens in the following months, it's up to you to fix them. This is part of the risk you take when buying a home. These things should be solved with an inspection and a conversation with the seller about who agrees to pay for what. This will all have to happen before any paperwork is signed or titles are transferred.
The above pertains to buying new. However, we mentioned it because it's important to know that a preexisting house doesn't come with a warranty or a guarantee! If an issue isn't recognized during the home inspection and fixed before the full purchase of the older home goes through, the new owner will be entirely responsible for the repair of the problem. This applies even when it was preexisting problem!
In comparison, a brand new home should always come with exactly that! A guarantee from manufacturers defects, the same as any new product!
Think about it, you're buying something that's just been built. It's no different from paying a construction company to build a conservatory for your house. In that scenario, the company is expected to give you a guarantee on their work. It's common knowledge, and you wouldn't think twice about it.
For some reason, many homebuyers forget about this when buying a brand new home!
A guarantee will protect you if things go wrong. In an ideal world, your brand new home will be absolutely perfect! However, this isn't always the case. You could experience minor or major issues in the months following your purchase for any variety of reasons. This happens as the house settles, and little things are noticed.
A common example is the doors inside your property catching against the frames. This happens due to shrinkage in the wooden frame materials. It isn't a big problem, but the guarantee means you can have the issue sorted for free!
This completely saves you the hassle of trying to find a construction company to come out and fix the issue, which would also be your monetary responsibility as a home owner. And, let's not talk about the time it would take you to fix it yourself!
Essentially, any problems that aren't your fault can be fixed for free within the guarantee period. The duration depends on the construction company, but most put it at between 1-2 years. As such, this is an important thing to look for when buying a brand new home.
If, for whatever reason, there's no guarantee, it would be in your best interest to continue your search. This is a massive red flag!
Has the house been inspected?
We touched upon inspections in the previous point, but they deserve some added scrutiny. With an old home, you'd happily pay for an inspection. More specifically, it's an essential part of the home buying process. You wouldn't feel comfortable buying a house that hasn't been inspected by a professional, would you?
When buying brand new houses, people tend to neglect the home inspection. Why bother inspecting a brand new home? It's freshly built, so surely there are no problems?
Again, this relates to an ideal scenario. Realistically, a brand new home may well have some lingering issues. It boils down to how it was constructed and who built it. Perhaps the construction company rushed to get it ready on time, and this led to issues?
It's worth paying for a home inspection to be 100% sure your brand new home is up to scratch. The inspection doesn't just take into account any current problems; it also looks at potential issues!
Experts recommend that you carry out an inspection during the construction process – if possible. This way, the inspector can identify any building methods or materials that might pose future problems.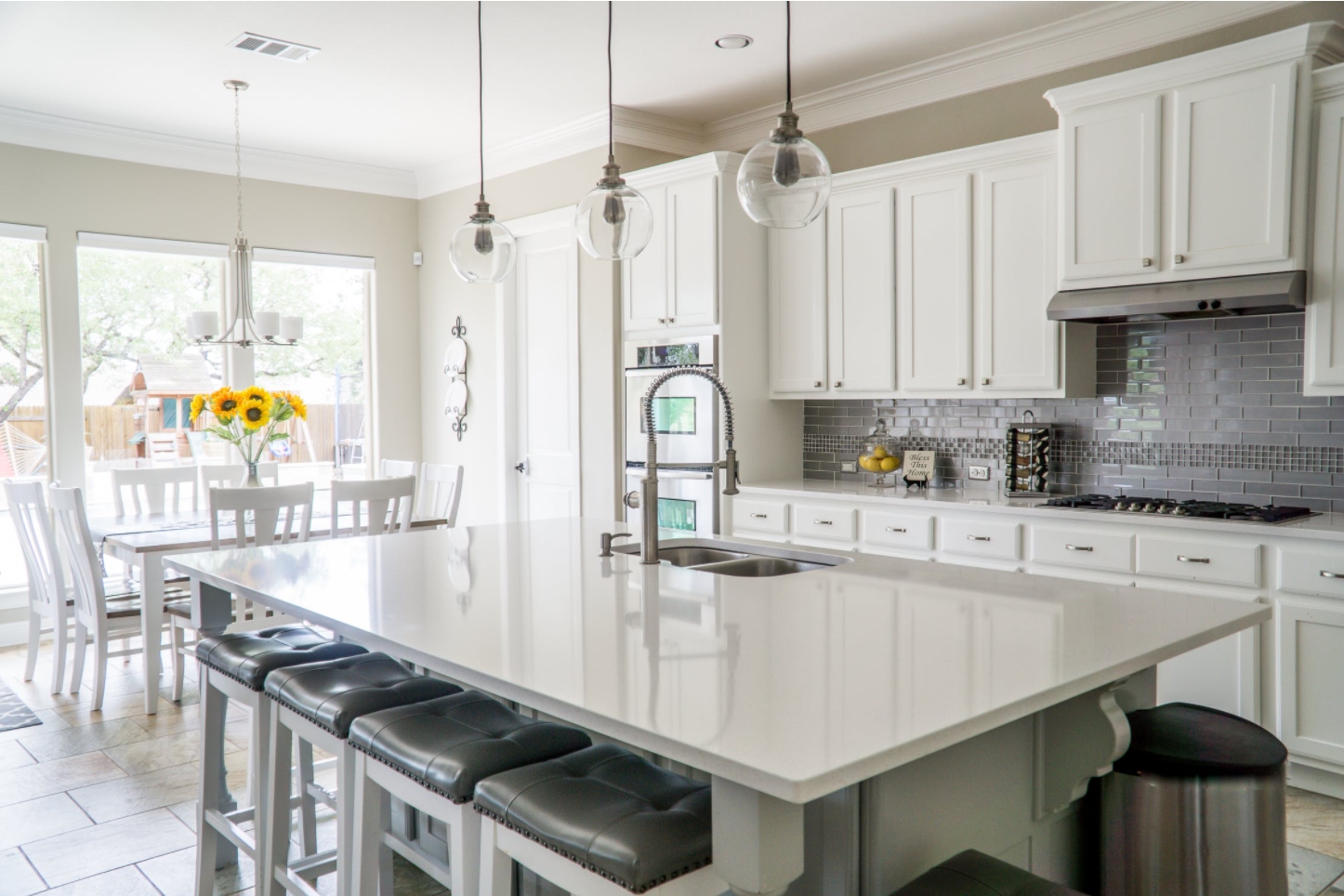 Can you trust the model home?
Maybe in your search for construction companies near me you've come upon a company that claims to have furnished models available for viewing. Most housing developments will have model homes that real estate agents use for marketing purposes.
Basically, these homes replicate the properties for sale, only they're fully furnished. As a result, it gives buyers a chance to see what the houses will look like when they've moved in, kitted it out with furniture, and personalized their space.
Generally, model homes are worth looking at because they do a great job at helping you get a feel for what the space you're looking at could be! Keep in mind, there are a couple of things to worry about when you view them.
Firstly, some housing developments feature different properties. There could be three or four different variations around the estate. But, there might only be one or two model homes. Therefore, the house you're interested in might not have a model.
Obviously, this is a big problem for your visualization! Still, the houses are constructed by the same company and most likely have similar features, so looking is never a bad idea. Also, if the homebuilders have other housing developments, you could visit them to see if your house has a model version.
Alternatively, you will need to keep in mind that the model homes aren't an accurate reflection of your specific property. They could look entirely different, but real estate agents still show them to you to get 'ideas' and 'inspiration.'
Next, model homes are usually guilty of committing a few white lies. The estate agents can be very clever, meaning they do everything to make the home look as big as possible. Some clever tricks to look for include:
Using smaller beds to make the bedrooms look bigger – A lot of companies do this, putting a small double bed in the master bedroom instead of a King or Queen.
Neglecting essential furniture – For instance, having a kitchen without a kitchen table, will make the room seem a lot larger.
Slightly tweaking the layout – Sometimes, the layout of the model home may be slightly different, and rooms could be in different places.
All of this is important as you need to realize that your brand new house may look nothing like the model home they have on display.
One way to combat this is to take a measuring tape with you when going around the model home. Measure the furniture to get an idea as to how big it really is. Then, you can compare it to the furniture you're moving in or planning to buy.
Summary
We know that there's a lot of information here, but all of it is important!
Brand new homes are advantageous for many reasons. When you choose the right one, it can be highly convenient and give your family a home that lasts a lifetime. So, be sure you look into all of the things listed above before purchasing a brand new property.
If you need further help, Vesper Construction will gladly provide some expert advice. As an experienced home builder and interior design company, we know exactly what to search for when looking for your new home!